Adashiko Collagen & Noni Gel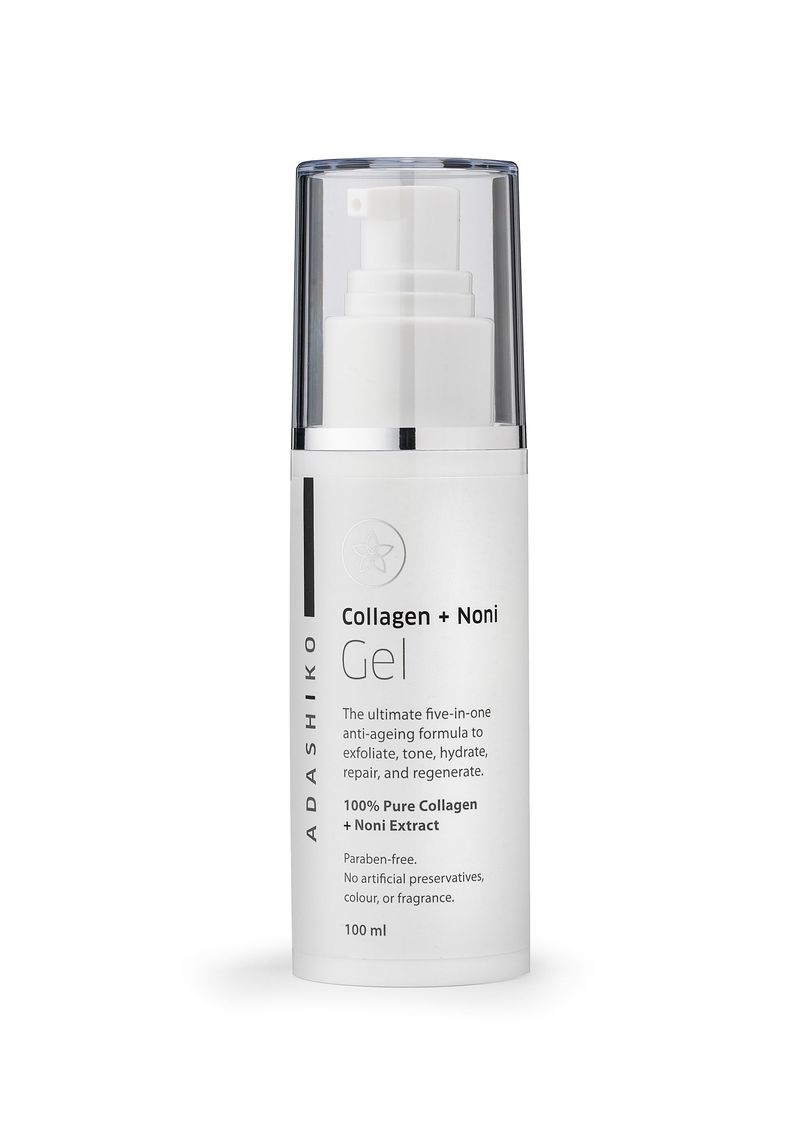 Adashiko Collagen & Noni Gel
Adashiko Collagen & Noni Gel
Bulk buy to save! Choose from the dropbox above.
sale
Buy any two of the same size and save $25NZD! Pick option from size dropbox above.
Adashiko Collagen & Noni Gel
Adashiko reduces the appearance of wrinkles, fine lines, and pigmentation. Helps to prevent acne and breakouts, and calms irritated skin. Suitable for all skin types. Contains no parabens, artificial preservatives, fragrance, or colour.
Adashiko Collagen + Noni Gel is the ultimate five-in-one anti-ageing formula to exfoliate, tone, hydrate, repair, and regenerate. Visible results usually occur within two to four weeks.
Reduces the appearance of wrinkles and fine lines.

Improves the appearance of pigmentation and age spots.

Helps to prevent acne and breakouts.

Calms and soothes irritated skin.

Gently exfoliates the skin to allow penetration of active ingredients.

Improves skin texture.

Creates supple, smooth skin.

Infuses the skin with moisture for long-lasting hydration.

Primes the skin for smooth makeup application.
Collagen consumption can benefit hair skin and nails by increasing hydration and providing superior anti-oxidant and anti-ageing support. If you wish to learn more in depth about collagen and it's benefits in the body read out highly popular blog on collagen.
Ingredients:
This product only uses pure natural ingredients:
Marine Collagen, Noni Extract, Rose Water, Rosemary Extract, Plant Placenta Extract, Glycine Extract, Hyaluronate Sodium, Hydrolysed Silk, Scutellaria Extract, Algae Extract, Fermented Bifidobacteria Extract, Brown Sugar, Vitamin E, Glycyrrhizin Dipotassium, Allantoin, Avocado Oil, Squalane, Carbomer, Sodium Hydroxide, Polysorbate 60, BG (1,3-Butylene glycol), Glycerin.
How to take:
The brilliant minds behind this product recommend that you apply two pumps to freshly cleansed skin, morning and night. Gently massage into the face, neck, and décolletage until absorbed. For optimum results, use in conjunction with Adashiko Collagen Pure or Adashiko Collagen Plus powder. Based on over 50 different women giving us feedback in person, it seems that a pump and a half is more than enough for morning and night application (per application) if only using on the face. The bottle lasts over 12 weeks!