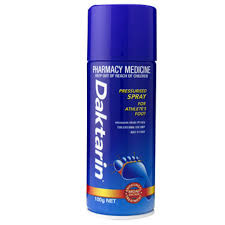 Daktarin Spray 100g
Quantity restriction applies, maximum of 2 can be purchased at any one time to comply with government regulations
Daktarin spray is a broad spectrum antifungal product. It treats common fungal and candidal skin infections. Daktarin Spray provides a cooling effect as it is sprayed on and dries the instant it contacts the skin.
Active Ingredients:
Miconazole Nitrate 20mg/g.

Dosage:
Shake well before use.
Before application clean and dry the affected area thoroughly. Hold can about 15cm from the area to be treated.
Apply a thin layer of the spray twice daily to the afftected area.
Continue treatment for up to two weeks after signs of infection have cleared up.

Warnings:
Avoid contact with eyes. For external use only.
Pressurised container do not puncture or expose to heat.
Customer Declaration: I agree to use strictly as directed and if symptoms persist or if I suffer any adverse effects, I will contact my Doctor or Pharmacist. This is a "Pharmacy Medicine". By ordering this product I acknowledge that I have read and understand the information regarding the product.